Sometimes you may face a D3DX9_39.dll is missing error on your Windows PC. check this guide out and get the perfect solution to this problem.
Imagine you are all set to play your favorite games like League of Legends, Prince of Persia, etc. on your PC. Or you are ready to do some work on a particular application on your computer. As you launch that program or game, it shows d3dx9_39.dll missing error. Yes, we know it one of the most annoying situations, but it can occur on any PC, as it is one of the common issues on Windows PCs. You may see an error like this "This application failed to start because d3dx9_39.dll was not found. Re-installing the application may fix this problem."
The primary reasons for the d3dx9_39.dll missing error are the missing d3dx9_39.dll file, problematic Microsoft DirectX, faulty video card drivers, etc. Hence, there are multiple methods to fix this problem. Let's have a look at some of the most effective ones.
Ways to Resolve d3dx9_39.dll Missing Error
Below we have elaborated some of the handiest methods to resolve the d3dx9_39.dll missing error on Windows PCs.
1. Reboot Windows PC
The foremost thing a person has to do if he/she is facing the d3dx9_39.dll issue is to reboot his/her Windows PC. As there is a possibility that it is just a temporary problem. Hence, we recommend everyone who if facing this problem to restart the system. After restarting the PC, try opening that application or game again that showed you the error. Check if the d3dx9_39.dll missing problem still exists. If it persists, then try the other solutions.
2. Download and Install d3dx9_39.dll File
One of the most prominent reasons for this problem is the damaged and missing d3dx9_39.dll files of your PC. Hence, to fix this issue, you have to download d3dx9_39.dll files and install them properly. Here are the instructions that can rely on to do so.
Search for d3dx9_39.dll on the internet.

Look for some authentic source.
Click on the credible search result.
Select the d3dx9_39.dll as per the version of your Windows operating system.
Click Download.
After downloading, copy and paste that file to the game or application folder that is showing the error. You can also paste it into the system folder of your Windows operating system. If you are having a 32-bit version of Windows, then you have to navigate to 'C:\Windows\System32' path, and if you have the 64-bit version, then the path is C:\Windows\sysWOW64.

Make a backup of the original .dll file if you are rewriting it.
Now, if you have opted to copy the downloaded file to the system folder, then open the Command Prompt. You can use the Windows search box.

Type resrv32 "name.dll" and press Enter.
Close everything and restart your computer.
3. Reinstall The Particular Program Again
Improper installation of the program is also a vital reason for the d3dx9_39.dll issue. If you have not installed League of Legends or any other such big game properly, then you might face this error while trying to play them. Hence, we advise you to re-install the game to fix this 'League of Legends d3dx9 39.dll is missing from your computer' issue. But first of all, you have to uninstall the game. Here is how you can do it.
Access Windows Control Panel with the help of the Windows search box.

Set View by to Category.

Select Uninstall a program under Programs.

Right-click on League of Legends or any other program that you want to reinstall.
Select Uninstall and follow the provided instructions.
After uninstalling the software, reinstall it correctly.
Once you have reinstalled the game, launch it to see if the above method has resolved the issue of d3dx9_39.dll with League of Legends or any other software.
4. Install the Updated Version of Microsoft DirectX
Another effective fix to resolve the d3dx9_39.dll missing issues is installing the updated version of Microsoft DirectX. The d3dx9_39.dll file is quite an essential part of the DirectX. Hence, updating it can provide a solution to the problem. Several people have also claimed that it has worked for them. So, you can try updating the Microsoft DirectX on your PC. Here are the appropriate instructions.
Visit the DirectX End-User Runtime Web Installer page.
Download the setup file after selecting the language.

Launch the downloaded setup file and install it by following the instructions.
Reboot your system after the successful installation of Microsoft DirectX.
Relaunch the program with which you were facing the d3dx9_39.dll file problem to check whether the issue got resolved or not.
5. Update Windows
Sometimes the d3dx9_39.dll file problem is just the result of a system bug. Microsoft regularly releases updates with the solutions for various problems, glitches, and errors. Hence, updating your Windows operating system can fix the d3dx9_39.dll missing issue that doesn't get resolved even after downloading the file. Here are the instructions you require to follow to update Windows.
Access the Start Menu.
Open Windows Settings by selecting the Settings option.

Go to the Update & Security option and select it.
Look for the Check for updates tab under Windows Update.
Click on it.

Now, let the operating system update itself. After the completion, reboot your computer and check if the issue still persists with the particular application.
6. Update Video Card Drivers
We all know that how problematic an obsolete and corrupted device driver can be. It can cause lots of issues on your Windows PC. And d3dx9_39.dll missing error is also one of them. Your obsolete video card or graphics card can cause this problem. Hence, we advise you to update your video card drivers if you are facing issues with d3dx9_39.dll files. There are two approaches to do so, one is manually, and the other is automatic. Let's discuss the manual methods to update video card drivers first.
Update Video Card Drivers Manually
Below are the instructions following which you can update your video card drivers manually and resolve the issues with your d3dx9_39.dll files.
Go to the Windows Search Box and search Driver Manager.
Open it.
In the Device Manager, go to Display adapters.
Select it and expand it.

Look for your video card/graphics driver and right-click on it.
Click the Update driver option.
Choose 'Search automatically for updated driver software' when it asks you how do you want to search for drivers.

Let the operating system look for an appropriate update for your video card driver.
Once the Windows download and install the latest version of the driver on your PC, reboot it.
Update Video Card Driver Automatically
After checking the above method, some of you might be wondering if there is a simple alternative to update your video card driver as the manual one seems quite time-consuming. If you are one of such people, then do not worry, we have brought a better alternative for you to upgrade your PC drivers. We are pointing towards using a dedicated third-party software. However, lots of utilities claiming to update your drivers have flooded the market, but only a few of them are trusted and reliable. Hence, to avoid this problem of choice, we recommend bit Driver Updater.
It is the utility that can help you to repair and fix all your device drivers and several issues related to them with minimum or zero efforts. It offers various benefits, such as driver backup & restoration, one-click solution, etc. If you want more details about this software and its specifications, then you can check our bit Driver Update analysis and review.
Moreover, here are the proper instructions to download, install, and use bit Driver Updater to fix driver problems on your PC.
Install it as you install any other program on your PC. It comes with an installer, so you do not need to put much of your efforts in installing the program.
After that, launch the program.
Look for the Scan Drivers option and click on it.
Now, after getting the scan results, go to the video card driver and click the Update Now option.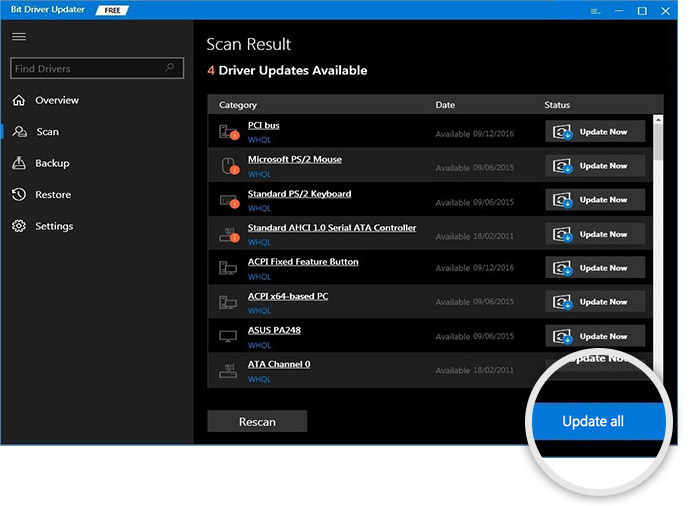 Common Queries: D3DX9_39.dll Missing Error [Fixed]
For further assistance on the topic, check these commonly asked questions out and get informed:
Q.1 What is d3dx9_39 DLL missing?
Sometimes, your system may not find the D3DX9_39 file due to some of the reasons listed at the start of the article. In such cases, your system starts showing this message if any program needs this file to run. You can solve this problem with the help of the solutions explained above. 
Q.2 Where do I put d3dx9_39 DLL?
You are supposed to put the d3dx9_39.dll file in the installation folder of the game or the application which requires this file to run. You should install the file first before or after putting it in the specific folder and restart the system afterward.
D3DX9_39.dll Missing Error- Solved
It can be quite annoying to see the d3dx9_39.dll missing issue when you are all prepared to play your favorite game such as League of Legends or to do any important task. But we hope that the above methods have helped you to resolve this problem. We have included all these ways in our write-up as people have found them quite helpful in fixing this issue. You can let us know which of them helped you by dropping your comments below.
Furthermore, if you liked this post and want more such information, then do not forget to subscribe Innovana blog.
Subscribe to Our Newsletter
Keep yourself updated with the latest technology and trends with Innovana Thinklabs Limited.