Is Driver Easy really an easy and the best way to update drivers? Read this Driver Easy review to know the answer. 
Drivers, i.e., one of the most crucial components of the computer system, if become outdated, can cause many unsolvable problems. Therefore, it becomes essential to update drivers regularly. If you search the browser for ways to update drivers, then software called Driver Easy pops up almost everywhere on the web. Driver Easy is undoubtedly among the best programs to update the drivers, but whether it is the perfect fit for your requirements or not, you will get to know this after reading our complete and genuine Driver Easy review. 
For the unversed, Driver Easy is a  software that lets you update the drivers automatically and effortlessly. You can download this program on Windows 10, 8.1, and 7. It boasts three versions, first is the lite or free edition. The second is Driver Easy Pro or Professional (available for $59.90 per year for 3 PCs). And the third one is  Driver Easy Technician (available for $ 399.95 per year for 50 PCs). And the good thing is that all the Driver Easy versions are available for even the 64 Bit versions of Windows 10, Windows 8, and Windows 7.
All these Driver Easy versions are quite different from each other when it comes to the features offered. The free version is quite basic. Whereas, the Driver Easy Professional and Technician versions offer a huge bundle of features. Before moving on to how Driver Easy performs, let's first have a quick look at what it offers to delight the users and the specifications of this software. 
Driver Easy Specifications
Here are the specifications of Driver Easy. 
Supported OS: Windows 10, 8.1., and 7
Developer: Easeware Technology Ltd
Available languages: 14
License: $59.90 per year for 3 PCs, $399.95 per year for 50 PCs
Latest version: v5.6.12
SHA-1: cdafb812feff8dd0805dd43818e1140cc3a7a22b
A Brief Overview of Features of Driver Easy
Driver Easy offers a lot of options to cater to all your driver updating needs. Below are the ones that we found most attractive. 
One-click driver download and installation: With Driver Easy, you can download and install the driver updates in a single click. However, for installing the driver updates in the Driver Easy free version, you need to take the help of Device Manager and perform the installation manually as it does not support automatic driver installation. 
Easy driver search: Driver Easy boasts an option to search for the required drivers so that you can find, download, and install them with ease. 
Driver backup and restore: With Driver Easy Professional, you can create driver backups before making any kind of changes and restore the backups in case things do not go the way you have expected. However, in the free version of this software, there is no option to backup and restore drivers. 
Detailed hardware information: Both free and Pro versions of Driver Easy display detailed information about your computer. You will get to know all the details about the PC ranging from its processor to the graphics card. 
Exportable to TXT file: Driver Easy is one of those rare programs to update drivers that can be exported to TXT file. 
Direct driver installation: Driver Easy does not redirect you to anywhere else for downloading and installing the needed drivers. It lets you directly download and install drivers from within the program itself. 
Above were the features that make Driver Easy one of our top choices when it comes to updating the drivers. Now, coming to the actual performance of this software, we must say that it is quite impressive. However, its performance will impress you or not depends upon the version that you are using as the Pro edition of Driver Easy offers many additional options that you do not get if you download it for free. Below is a detailed analysis of how Driver Easy works. 
Also Read: Best Driver Easy Alternatives for Windows PC
Updating Drivers with Driver Easy-Is it really easy
We used Driver Easy Pro's latest version on our Windows 10 computer, having 64 Bit architecture with 4 GB RAM,  Intel Core i5-7200U CPU, and an x64-based processor. In our tests, we did not encounter any problems as such while using this software. It started scanning our computer soon after we installed the software, and the scan was completed in one minute. In addition to quite a quick scan, we are also happy with its ability to run a scan in idle time, an option to schedule offline scans, less resource consumption, and a huge driver database. In addition to this, another great advantage of using this program is that it lets you hide a driver update and uninstall drivers of removed hardware. Apart from that, you can also use Driver Easy as portable software by installing the ".Net Framework."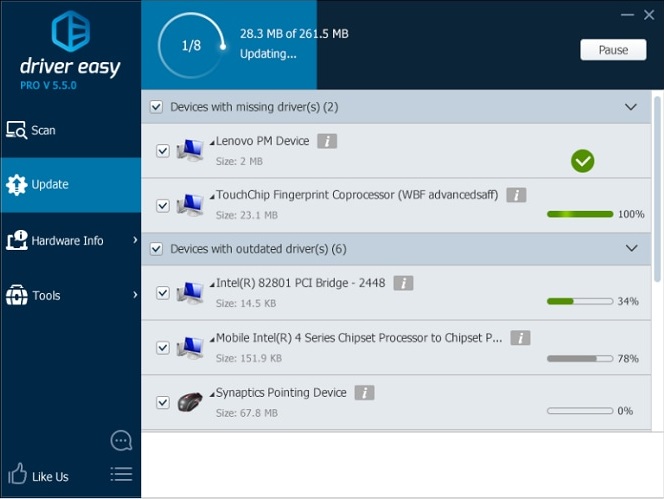 In nutshell, we liked this software. But, as said earlier, whether you like it or not depends on the version that you are using. If you download Driver Easy pack for Windows 10, 8, or 7 (32 or 64 Bit) for free, then you might miss the presence of many advanced features. For instance, in the free version, you do not get automatic driver installation, restore point, system backup, driver rollback, free PC tech support, and automatic update to the latest version of Driver Easy. But, if you think that these features are not needed in your case, then the free version of Driver Easy is among the best choices that you can make. 
Driver Easy Review- Our Final Verdict
In our view, Driver Easy is undoubtedly one of the best software that we have tried to date. Both the free and Pro or Professional versions of Driver Easy are incredible. However, if you want advanced features with really easy driver download, installation, and update, then you should go for its paid version. And even if the pro version doesn't work for you, then try Bit Driver Updater. It is another best driver updater tool in 2021. We hope that you found our Driver Easy review useful. Stay tuned with us for more such software reviews.
Subscribe to Our Newsletter
Keep yourself updated with the latest technology and trends with Innovana Thinklabs Limited.