Here is our genuine review of Driver Support so that you get a better understanding of this software and answers to questions, such as whether it is any good or not. 
We all know how crucial it is to keep the drivers updated. Without up-to-date drivers, your computer won't take a long time to reach the lowest performance level. Since it is cumbersome to update drivers manually, we need a piece of software that can help us perform this task. While searching for such a program, the name of Driver Support often comes up. It is among the most trending driver updaters present in the marketplace currently. But, not everything that trends is the best. Therefore, here is an honest Driver Support review so that you can judge whether this software is the best fit for your needs or not. 
Before going into the details of this software, here is an overview of what it is and what it offers to the users. 
A Quick Overview of Driver Support and its Features
Driver Support is software that scans your computer to detect the drivers that need to be updated, finds an update for them, and lets you download and install the same. Here is a view of the specifications of this program. 
OS Supported: Windows 7, 8, and 10
Developer: Asurvio 
License: Available for  $9.99 per month
Free version: Available
Installer File Size: 1.05 MB
Talking about the features that this software offers, it provides a bunch of options to its users. Below are the highlighting ones from them. 
Driver Support Features:
Unnecessary system files removal
Driver Support comes with a tool to remove the unrequired system files that do nothing except making the computer sluggish and buggy. However, this option is only available in Driver Support full version. 
Driver backup and restore
It becomes necessary to create a driver backup before making any changes to the driver so that if anything goes wrong later, you can restore the earlier working state of the driver. Hence, Driver Support boasts the driver backup and restore feature. However, if you download and use Driver Support for free, then it is not possible to use this tool. 
Sometimes, in a busy life, it becomes tough to find time for running a driver scan and updating the drivers. Scheduling the scan helps you manage time better and perform a driver update as per your convenience. Driver Support full version comes with a scan scheduler through which you can get your PC scanned automatically according to your preferred timings. 
In case you do not want to scan any driver and update it, then Driver Support lets you add it to the exclusion list. And we believe that it is among one of the highly useful features since it is not always necessary to update all the drivers. 
Here comes one of the distinctive features of Driver Support. It lets you uninstall the drivers that you do not wish to keep on your computer.  
Apart from the ones stated above, Driver Support also has a few additional features, such as you can access this software from anywhere across the world, real-time computer monitoring, improved app experiences, system cleanup, assisted support, and more. However, most of these features are only available on the Driver Support updater's full version. 
Above was how the features of Driver Support look on paper. Now, let's take a dip into the actual performance of this software to know how it performs in the real world. 
The real-world performance of Driver Support-Our opinion
The performance of Driver Support depends on the fact that you are using its free or full version. For the purpose of this Driver Support review, we downloaded the free edition of Driver Support from its website. We used this program on our Windows 10 testing machine having Intel Core i5-7200U CPU, 4 GB RAM, 64 Bit operating system, and x64-based processor. In our test, the program performed quite well. Within 2 minutes of initiating the scan, results got displayed on our computer. However, before running the scan, first, we had to complete the registration. And this may not go well with some users. 
However, once you get registered and begin using this software, you will realize that it has one of the most user-friendly UIs. Moreover, it uses a device driver matching system to find the perfect drivers for your computer from its huge driver database.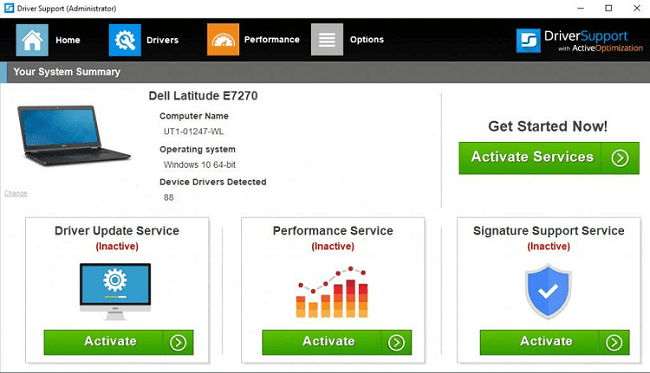 In nutshell, we found its free version quite impressive for scanning the computer for outdated drivers. If you have advanced needs, then you can go for the Driver Support full version and get the serial key that does not cost much. It is available for $9.99 per month and offers an ocean of useful features, including manual driver download and installation. 
Driver Support Review: Final verdict
In our genuine testing and review of Driver Support, we found that it is a legit driver updater that lets you scan and update drivers. Either you can download the Driver Support free version or full edition of this updater tool to unlock all its features from here. If you use this software, then do share your views about it in the comments section. 
Along with Driver Support, another competent driver upgrading program that we always recommend is Bit Driver Updater. It is an impeccable tool to fix drivers. We have reviewed it as well. You can check that review on our blog to know more about the tool. And if you want to get more such software reviews, then make sure you subscribe to this blog and bookmark it. 
Subscribe to Our Newsletter
Keep yourself updated with the latest technology and trends with Innovana Thinklabs Limited.