We have genuinely reviewed Quick Driver Updater to answer the question that whether it is truly a safe, quick, and best program for performing driver update or not. 
We all know how crucial it is to keep the drivers updated. Outdated drivers cause most of the annoying and fatal computer errors. However, in our busy lives, we do not get much time to update drivers and look for software that can perform this task automatically, safely, and quickly. In search of such a program, the name of Quick Driver Updater is sure to come. It is among the best driver updaters that are currently available. But, is it really the quickest, safest, and the perfect way to update drivers? Find the answer to this question in our genuine Quick Driver Updater review. First, here is a quick view of the specifications of Quick Driver Updater. 
Quick Driver Updater Specifications
OS Supported: Windows 10, 8.1, 8, and 7
Developer: Digital Protection Services S.R.L.
Installer File Size: 5.58 MB
Now, after looking at the specifications, let's dive into the details of this software. 
What is Quick Driver Updater
Quick Driver Updater is a software program that updates drivers automatically on Windows 10, 8.1, 8, and 7. You can download Quick Driver Updater for both 32 and 64 Bit versions of Windows 10, 8.1, 8, and 7 for free. If you wish, then you can also get its more advanced version for a price of $39.96. Below is the link from where you can download it. 

Coming to our review, for our test purpose, we have used our Windows 10 PC with Intel Core i5-7200U CPU, 4 GB RAM, 64 Bit operating system, and x64-based processor. Before moving ahead with our test findings, here is a quick look at what Quick Driver Updater offers. 
A Glimpse of the Features of Quick Driver Updater
Quick Driver Updater offers a big bunch of features to cater to the requirements of users when it comes to performing driver updates and improving computer performance. Below are the ones that attracted us the most. 
You do not need to make many efforts for updating the drivers with Quick Driver Updater. This software lets you perform the task automatically with only a single click. However, you must be a Pro user to update the drivers in one click with this software. 
Quick Driver Updater supports quite a lot of languages ranging from English to French, so that language does not stop you from getting the ultimate computer performance. 
Quick Driver Updater is among one of those software programs that prioritize your convenience. Hence, it offers an option to schedule the driver scan according to your preferred timings. 
This software comes with the ability to boost the performance of your computer. It makes the  PC fast, smooth, error-free, and capable of running even the most graphic-intensive applications with ease. 
Creation and restoration of driver backups
Creating and restoring driver backups is another great feature that Quick Driver Updater offers. It ensures that you do not get stuck if something goes wrong after the driver update. However, this option is a privilege that only Pro users can get. 
High-speed driver downloads
Quick Driver Updater downloads drivers at a jet speed. If you want to increase the download speed even more, then you have an option to do it. However, to use this option, you must have the Pro version of this software. 
Sometimes, things do not go as expected after the driver update. If something like this happens in your case (this situation comes only in the rarest of rare cases), then you can restore the system back to the earlier state without any cumbersome efforts if you are a Quick Driver Updater Pro user. 
In case you do not want to scan and update any driver, then you can add it to the ignore list. It  is one of those features that not all the driver updaters offer. 
WHQL certified tested drivers
Quick Driver Updater is safe and among our top choices to update drivers as it downloads only those drivers that are thoroughly tested and WHQL authenticated. 
These were some of the features of Quick Driver Updater that caught our attention the most. Apart from them,  another highly impressive thing about this software is that it is a whole lot user-friendly. Users of all ages and experiences can use it comfortably. In case you are wondering about the way to use it, then here it is. 
Firstly, download Quick Driver Updater from here.

After the setup is downloaded, click on it. 
Now, click on "Yes" to proceed further. 
Click on the "Next" option to start the installation.

After the installation is complete, let Quick Driver Updater finish the automatic scan. If you wish, then cancel the automatic scan and perform it manually by choosing the Scan option. 
Once the scan completes, you can update the required drivers either automatically in a single click or one-by-one. 
Above was the simple process to use Quick Driver Updater. Now, let's come to the real question, i.e., how Quick Driver Updater performs in the actual world. We answer this question in the next section of our Quick Driver Updater review. 
Our Opinion on the Performance of Quick Driver Updater
In our test, Quick Driver Updater did a remarkable job when it came to scanning the computer and updating the outdated drivers. It took only 2 minutes to scan every nook and corner of our testing machine, which is full of outdated drivers. We believe that it is really quick in scanning the computer, unlike many of its counterparts. Further, it detected nearly all the outdated drivers and, we updated all the drivers without any hassles using this software.
In a nutshell, we can say that the performance of Quick Driver Updater is up to the mark when the talk is about scanning and updating the drivers with ease.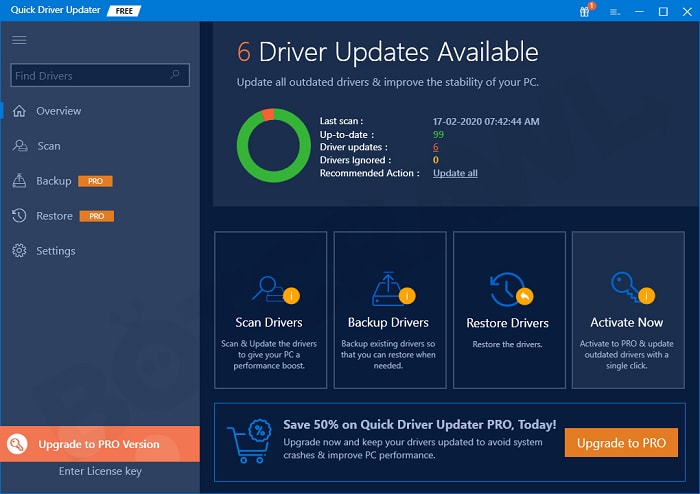 Apart from ease of use, outstanding performance, and incredible features, there are many reasons for which we believe that you should give this software a shot, such as its ability to resolve computed errors. To our surprise, we did not encounter any annoying issues after updating drivers with Quick Driver Updater. Moreover, it has not only improved the way our computer performs day-to-day tasks but also elevated its video editing and gaming performance. 
Quick Driver Updater is among the best ways to update drivers that we recommend. Below we sum up the reasons for the same. 
Why choose Quick Driver Updater
Here are the reasons for which we think that you should give Quick Driver Updater a chance. 
It significantly improves the way your computer works by making it fast, smooth, and free from all types of errors. 
Quick Driver Updater is among the most reliable driver updaters as it downloads only those drivers that are WHQL validated. 
It performs a thorough and fast PC scan. 
The user interface of this software is easy to understand and use. 
This software boasts many features such as one-click driver update, internet connection management, driver download speed acceleration, and more to make updating drivers a child's play. 
Quick Driver Updater Review: Concluding Thoughts
Above, we have shared our genuine review of Quick Driver Updater. You can have your views on whether this software is the perfect choice for you or not. But, in our humble opinion, it is among the best programs to update drivers and elevate computer performance. You can download the Quick Driver Updater free version from here. If you want more useful features, such as driver backup and restore, then we suggest you go for the Pro version of Quick Driver Updater. It is quite reasonably priced and suited to the expectations of almost all users. 
However, if you still feel that it doesn't fulfill your requirements, then we recommend you try Bit Driver Updater. It is another perfect solution for all the driver issues. Lastly, stay tuned with Innovana Blog for more such software reviews. 
Subscribe to Our Newsletter
Keep yourself updated with the latest technology and trends with Innovana Thinklabs Limited.