Today we are going to tell you about one of the recently famous and crucial laws for online speech. You might have heard about Section 230 these days quite often in the news and on the internet as well. It is one of the trending topics currently. Many people are debating over it and the changes requested by the U.S. President in it. But, what is it, and why people are so raged about it, even including the big organizations such as Facebook, Twitter, Google, etc. Here, we are going to discuss all these things such as 'What is Section 230?', its Amendments, relation with the Donald Trump & Twitter news, etc. So, without further ado, let's discuss the details of Section 230.
What exactly is Section 230?
In a nutshell, Section 230 is one of the vital section of the Communications Decency Act, 1996. It has laws that preserve online publishing platforms such as social media platforms, websites, etc. from the liability of the content published by any of their users. The law also allows them the right to take action against any inappropriate content, for example, content related to sex work, any copyright and legal violation, etc.
It gives the right of online speech to the websites and social media publishers. No one can force them to act as a third-party publisher. Hence, most of the people misapprehend this law by saying that companies use it to force their views on the users. That is the reason why it is related to the Twitter and Donald Trump news. We'll come to that later, before that let's understand more about Section 230.
Also Read: Donald Trump Reacted After Twitter Marks One of His Tweets as Potentially Misleading Information
Section 230 and Its Connection With The First Amendment
If you are not familiar with laws and regulations, then let us tell you about the relation between First Amendment and Section 230. The First  Amendment in the constitution restricts the government and officials to intervene in the freedom of speech. The same also prohibits any organization or company to edit content on their online platforms posted by their users. But, because of Section 230, companies are capable enough to do so, despite the First Amendment. Hence, it's a topic for debate for a long time, much before the Trump's controversy.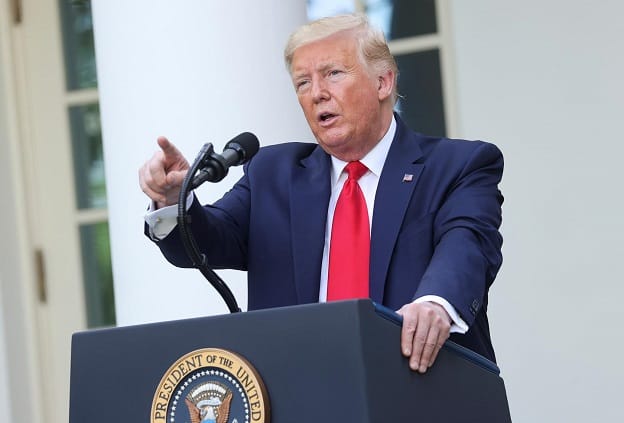 Changes in Section 230
Till now, the government has made very few changes to the Section 230. One of such changes is FOSTA (Fight Online Sex Trafficking Act). It was signed by the U.S. President in 2018, into the Allow State and Victims law. It is an exclusion to Section 230. FOSTA restricts Section 230 from being implemented to the content that endorses prostitution or online sex trafficking.
Changes Recommended by Different People in Section 230
Section 230 is a topic of debate for a long time, and hence various people have proposed modifications to it. The US lawmakers are suggesting two amendments for a long time. They want to restrict Section 230 from some specific content, such as FOSTA. In the other change, they want to make it mandatory for a particular category of content such as EARN IT (Eliminating Abusive and Rampant Neglect of Interactive Technologies Act).
While on the other hand, Democrats want some other changes to Section 230. They want strict laws to sue technology companies if they fail to take action against the content posted by the users related to violence and hate.
Republicans have some other demands. They want companies to be politically unbias while removing or editing any content posted on their platform. This also reflects in the actions of Donald Trump. President Donald Trump has signed an Executive Order after Twitter has remarked his tweets against spreading misinformation. He asked the Federal Communications Commission to make discuss and make amendments in Section 230.
What Tech Companies Want?
As per Facebook's white paper, it seems that tech companies don't want any big change in Section 230. They only want a little flexibility in the laws and a bit of tolerance from the governments. It is acceptable, as social media and various other online platforms work globally and, they have to follow different rules, regulations, and laws. Hence, they require some flexibility and tolerance.
So, what's your opinion on Section 230 and the expected changes by different people? Let us know.
Additionally, if you want to know more about various other technology-related laws and their updates, then subscribe to Innovana blogs. We have a vast collection of knowledge related to the latest technologies.
Subscribe to Our Newsletter
Keep yourself updated with the latest technology and trends with Innovana Thinklabs Limited.