10 Best Equalizer Apps for Android Free (Improve Sound Quality)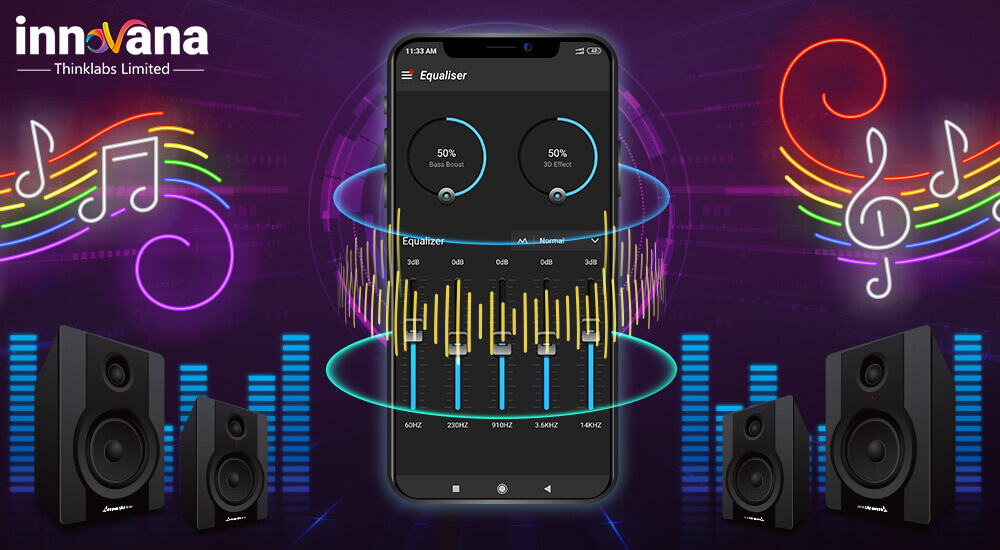 Are you a Musicophile ? Then, you must be listening to music on your phone. But most Android phones lack proper bass booster in their music players, and hence you will be in need of best equalizer apps for Android. The bass plays an important role in music as it refers to the tones of low pitch and ranges from 16 to 256 Hz. The bass plays a variety of musical roles.
Android phones with Android 5.0 and above do come with a built-in five-band equalizer that can be adjusted for achieving the right bass impact on music & sound, yet it often doesn't yield satisfactory results. Therefore, equalizer apps come into the picture. In this blog, we will take a look at such apps in detail.
10 Best Equalizer Apps for Android Devices in 2019
Below described in this article are the pros and cons of 10 equalizer apps available to boost the bass of your Android phone's sound system and normalize its sound as well.
1. Equalizer FX
This equalizer app has a simply designed user interface. It has three main sections, namely – Equalizer, Effects and Profiles.
Pros:
This bass booster app is capable of improving the overall sound quality of your system and thereby enhances your music listening experience over any medium.
The widget function on your home screen, making it easy to adjust configurations.
There are twelve presets with customization options available.
It comes into effect instantaneously when you start playing music and also switches off with the music.
This app can act as an Equalizer and Bass booster.
What it also does is virtualize the audio channels and enhance loudness.
Cons:
This app contains advertisements that can be a little annoying to deal with at times.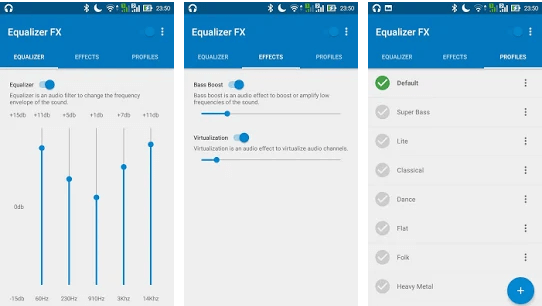 2. Neutralize
This is an excellent app for people who have a hearing impairment. This kind of app is an equalizer in a conventional manner. What it actually does is restore the sound of the system rather than distorting it.
The parameters which actually come into account for better sound quality are digital to conversion, signal frequency range, amplification path, speakers frequency response, and psychoacoustics. Therefore, a neutralizer tests the hearing ability in the main frequency ranges to tune in the system equalizer accordingly.
Pros
This equalizer app for Android improves the sound quality of both speakers and headphones.
Cons
This app isn't completely free, as there are in-app purchases that need to be made to ultimately use this app.
Also, this equalizer app for Android may not function in entirety on all devices due to device restrictions imposed on third-party apps by some phones.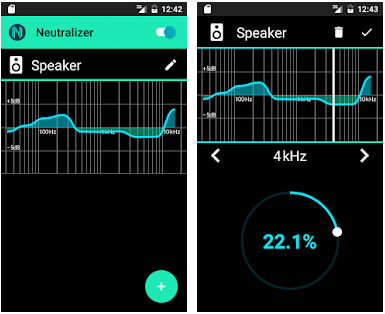 3. Equalizer – Bass Boost
This is another choice amongthe best equalizer apps as the user interface is simple and appealing enough for users to find it convenient to use. This app is capable of enhancing the overall listening experience by customizing the sound effect as per the genre of music.
Pros
It has a five-band equalizer with bass boosting ability.
This is not just a bass booster app for Android as it can enhance the overall loudness in Android 4.4+ devices.
This app can also add visual effects, 3D surround sound effects and a lot more.
There are ten predefined presets with customization capability.
Cons
This app contains ads.
This app also has some in-app purchase offers to access all features.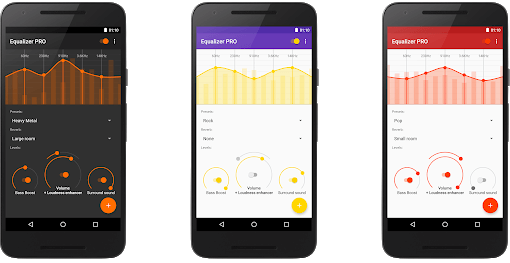 4. Music Equalizer – Bass Booster & Volume Booster
This app again makes a superb choice as a bass booster Android app because of the impressive material design and colorful themes. There are fifteen themes offered by this app.
Pros
This app has compatibility with both headphones and speakers of your phone.
This app can be considered among one of the best equalizer apps for Android due to its excellent features like the availability of five-band equalizers with ten presets.
This app is also capable of normalizing the sound effect as suited to the listener, along with adding surround sound effects.
Cons
The app contains advertisements that can mar the user experience.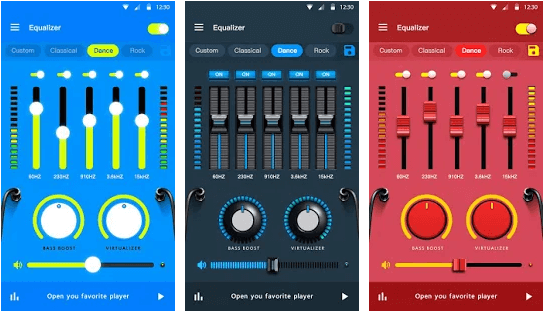 5. Music Equalizer & Bass Booster
This is a simple and useful app when it comes to recommending the best equalizer apps for Android devices.
Pros
This app is a eight-band equalizer tool with bass boosting ability, virtualization features, and more.
Cons
Ads can create some interferences.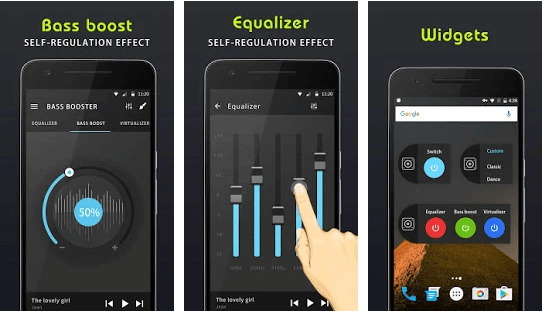 6. Sonarworks True-Fi Early Access
This is indeed a recent addition to the list of best bass booster apps available on the Play Store. This app is, in fact, a music player in association with the famous Spotify music app.
Pros
This can be considered an impressive equalizer tool because it can intelligently modulate the sound volume according to the age of the listener.
Cons
It has a limitation of being effective only with the Spotify music app in comparison to other apps.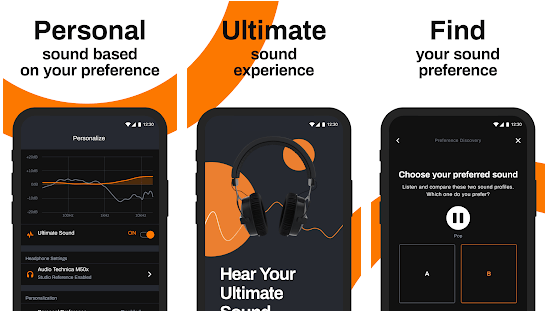 7. Music Volume EQ – Sound Bass Booster & Equalizer
This is an amazing app with attractive features to have earned its spot among the best bass booster app and is free of cost.
Pros
With advanced volume control features, you can control the volume of device entirely.
This app has a built-in volume control feature along with an EU meter, and a five-band graphic equalizer.
There are two tabs, namely the EU Controller tab and the Equalizer tab.
It also lets a user save their own presets on the app.
Cons
Advertisement displays can ruin the smooth running experience of the app.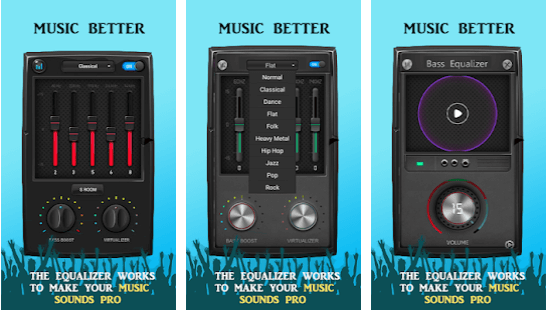 8. Equalizer -Music Player Booster
This app has a classic style graphic design for absolute music lovers; free of cost; it increases the device volume.
Pros
With a user-friendly interface, it can also work as a music player.
It comes with ten default Presets.
There are seven-band equalizers and also a DJ mode.
Cons
In-app purchases and advertisements are the two major drawbacks of this app.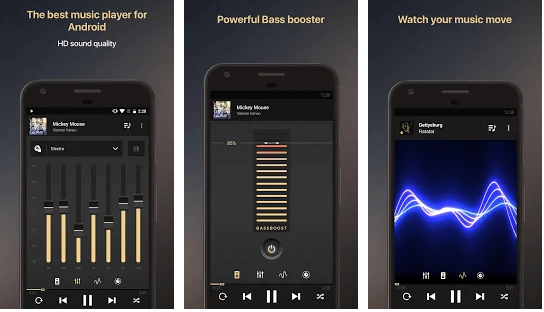 9. Band Equalizer
This bass booster app is capable of enhancing the complete sound quality of your device and gives you the freedom to adjust and modify sound as per your likes. This app can be downloaded free of cost and is even applicable to headphones as well as speakers.
Pros
It has a built-in music player which can be played in the background.
10-Band equalizers are available along with custom presets.
It allows you to customize the volume, bass, treble and also the left/right  volume balance of the speakers.
The frequency of sound can be adjusted from 31Hz to 16kHz.
Cons
There are ad interferences which can't be removed that impact the user experience of this equalizer app for Android.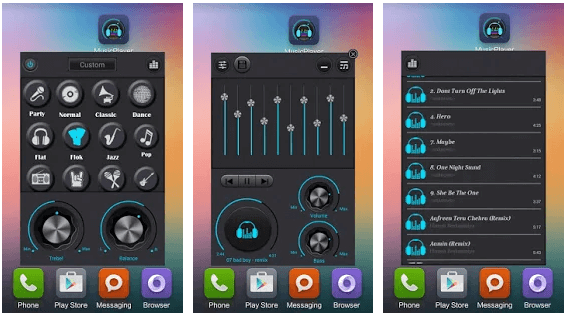 10. Dolby MusicPlayer – Easy HD Music
With an aesthetically pleasing user interface, this app can also prove to be among the best options available in the category of bass booster apps.
Pros
It is, in fact, a music player with bass boosting abilities, reverberation sound  effects in combination with built-in equalizer features.
Cons
You cannot have a smooth experience with this app due to advertisement pop-ups.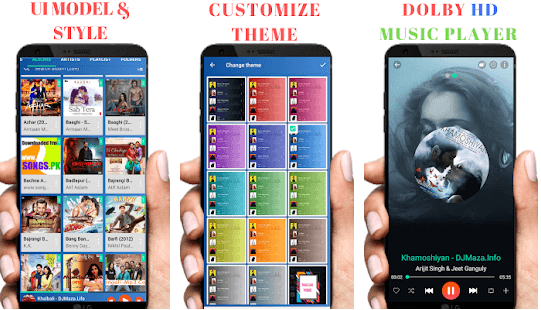 Conclusion
This article has briefed you about the best equalizer apps available for Android devices with its best features and demerits. There are millions of apps in the Play Store which claim to be a thousand things, but when it comes to actual action, many of these turn out to be fake apps, or some may even contain malicious viruses.
Thus, this article can hopefully help you find the app which suits you best.