Have you ever tried playing video games or watching your favorite videos without sound? It is quite boring to do so. Without proper audio, video games, movies, etc. don't seem as interesting as they are. Not just fascinating, with sound, it becomes quite easier for us to understand and perceive anything. Hence, you should ensure that your laptop speakers or speakers that you have connected with your PCs emit proper sound. For that, you have to update Sound Driver on Windows 10 PC.
However, along with sound drivers, there are various other factors as well that affects the sound quality and capability of your PC. But sound drivers are quite essential and complex to deal with among all such factors. Hence, we have come up with a guide on how to update Sound Driver on Windows 10. So, now let's have a look at the different methods to update sound drivers.
Methods to Update Sound Driver on Windows 10 Manually
Here we are going to mention the methods that require a bit more effort and time from you to update Sound Driver on Windows 10. These are the manual methods for updating Windows sound drivers. However, if you are not interested in these methods and want a time-saving alternative, then we recommend you to jump to the next section of this and use Bit Driver Updater to update sound drivers on your PC. Here is the download button through which you can get the Bit Driver Updater.

Now coming back to the manual methods, here is the first method to update Windows sound drivers manually.
Update Sound Drivers via Device Manager
Below are the proper instructions to use Device Manager for upgrading your sound drivers on Windows 10 PCs.
Step 1: Most of the Windows 10 PCs have the search box available on their taskbar. So, click on it and type Device Manager in that box. If you do not have the search box on your taskbar, then you can get it by selecting the Windows Start icon.
Step 2: After getting the Device Manager in your search results, open it with a single click.
Step 3: Choose 'Sound, video and game controllers' among various device and driver categories.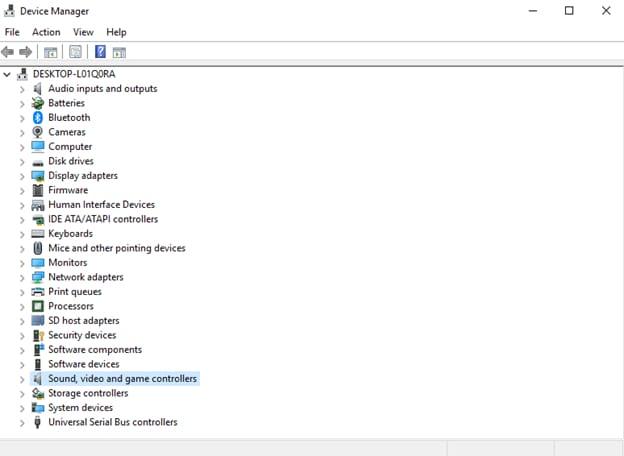 Step 4: Now, place the cursor on the audio or sound driver that requires an update and right-click on it.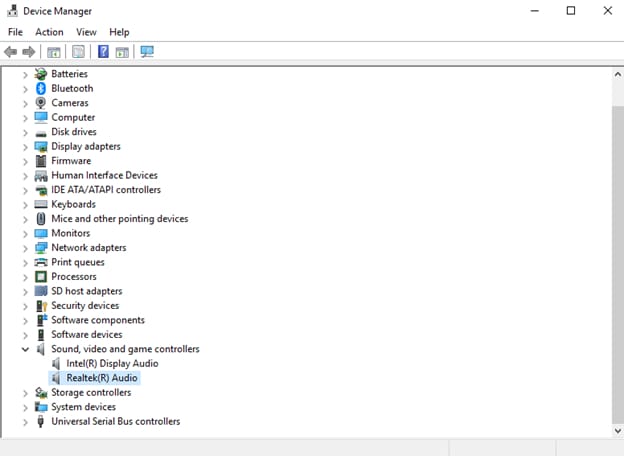 Step 5: In the drop-down menu or we can say context menu choose the Update Driver option.
Step 6: Windows offer two types of search for driver updates. You have to go for 'Search automatically for updated driver software.'
Step 7: After this, Windows will start detecting for updates for your sound drivers and will install them on your PC.
Update Sound Drivers Via Official Website of Manufacturers
Along with the Device Manager, another standard method through which you can update your sound drivers is downloading the update directly from the manufacturers' sites. Here are the steps to get a sound driver update from the driver manufacturer's website.
Step 1: Visit the official website of your sound driver manufacturer.
Step 2: Now, look for the driver support or download driver option and select it.
Step 3: Select the driver you want to download an update for.
Step 4: After that, provide all the driver-related or your operating system details.
Step 5: It will show you the latest driver suitable for your requirements, download it.
Step 6: Once you have downloaded the latest version of the sound driver, you have to install it. But, before installing the latest version, you need to uninstall the older version. Hence, to do this open Device Manager.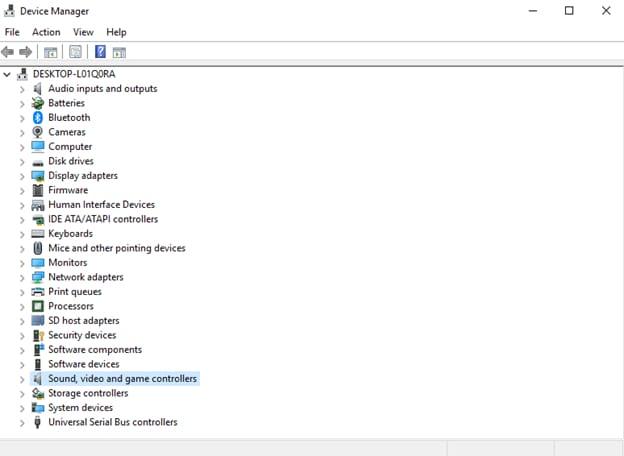 Step 7: After opening the Device Manager, find 'Sound, video and game controllers' and click on it to expand the sound drivers list.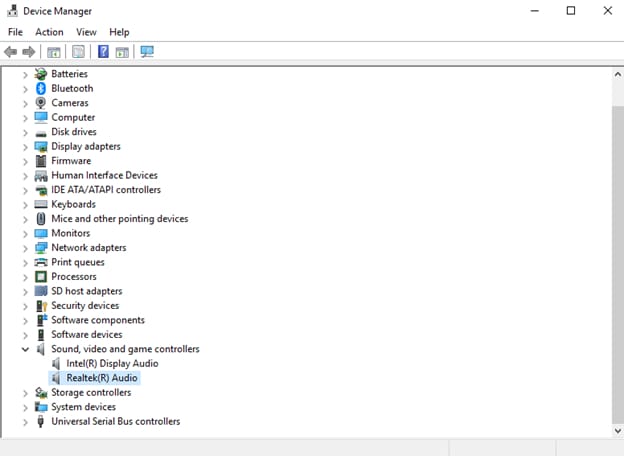 Step 8: Select the sound driver of which you have downloaded the latest version and right-click on it.
Step 9: Choose Uninstall to remove the current version of your sound driver from your Windows 10 PC.
Step 10: Now, go back to the downloaded file of the latest sound driver. Run the setup file.
Step 11: Follow all the instructions of that installation setup.
Step 12: Select Finish to complete the installation of the latest version of the sound driver.
Step 13: At last, to update Sound Driver on Windows 10, restart your computer or laptop.
Update Windows Sound Drivers Automatically
As we have mentioned earlier as well, not everyone is interested in updating sound drivers or any other Windows driver manually. Hence, for them, Bit Driver Updater is the best option to update their windows drivers. 
Updating sound drivers or any other drivers manually on Windows operating system has some of its specific disadvantages and problems. First of all, it takes quite a long time, and currently, a person's time is the most important thing for him/her. Then, it is not that effective all the time. Windows may miss an important update while you perform a scan for driver updates. Or it is also possible that you may download some harmful updates from some unauthentic sources. Hence, because of these reasons, it becomes quite difficult to update device drivers carefully, and that too without wasting much time. But, Bit Driver Updater makes it possible for you. The driver updater software helps you to upgrade your drivers in minimal time. The software eliminates all the problems related to the harmful drivers and unauthentic sources, as it offers only WHQL certified driver updates and that too from reliable sources.
The driver updater program is a solution for various other problems as well. You can try it by yourself as it is free to download. You can download the Bit Driver Updater software from here.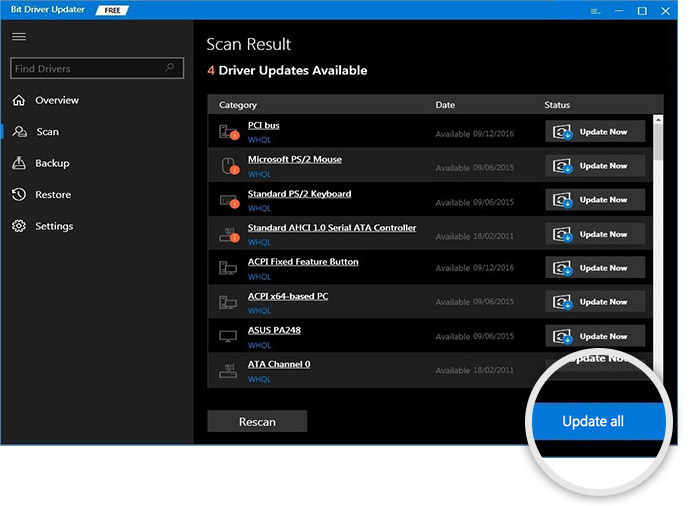 After you have downloaded this premium driver updater tool, you just need to follow some simple steps to get the latest Windows sound driver update. We have mentioned those steps below, have a look at them to update Sound Driver on Windows 10 using Bit Driver Updater.
If you have downloaded the Bit Driver Updater from the above download option, then the first step is to install the software. Just double click on the file that you have downloaded and follow the simple instructions of the wizard.
After installing Bit Driver Updater successfully on your PC, launch the program.
Just sit back for a few seconds as the software automatically starts detecting all the obsolete and malfunctioning drivers on your computer.
After that, it provides you with a list of such drivers. Go to the sound driver in the list and select the Update Now option available on the right side of the screen.
That's the entire process of updating sound drivers or any other Windows drivers using Bit Driver Updater.
Sound Drivers on Windows 10 – Updated
Now you have seen the major methods to update Sound Driver on Windows 10. Some of you have liked the Device Manager method, or some have liked some other method. Upgrading your driver or fixing any problems related to them via the above-listed methods is just a cakewalk. Anyone can do it with the same efficiency and effectiveness.
Furthermore, if you have some other suggestions, then let us know, we'll include them in our coming write-ups. Till then subscribe to Innovana blogs and stay tuned with us.
Subscribe to Our Newsletter
Keep yourself updated with the latest technology and trends with Innovana Thinklabs Limited.