Windows 7 has been one of the most used and appreciated OS from Microsoft, even after the later upgrade to Windows 8. It is hailed as the flagship OS, and still has active users all over the world (ever after its end of support in 2015.) 
However, since Microsoft has now completely stopped supporting Windows 7, the best thing that anyone with the old Windows on their system can do is, upgrade Windows 7 to Windows 10.  The end of support means that there's a high risk of errors and issues. 
Talking about the problems, errors, and reasons to update Windows 7 to 10, here we share a few of them.
A slow start in Windows 7
No official support for Cortana in Windows 7
Glitches while playing high-end games and videos
No Microsoft Edge on Windows 7
No top-grade data security in Windows 7
These were only a few of the problems and many others can also be added to the list. Thus, it would be best if you update Windows 7 to Windows 10.
How to upgrade from Windows 7 to Windows 10?
Upgrading to Windows 10 is pretty easy and straightforward. Just follow the steps mentioned in this article for an effortless switch.
The first thing that you need to do is find out the 'Product Activation Key' for Windows 7. You might have received it when you purchased Windows 7 for your computer. If you don't have that then you can opt for product key finder tools to perform this task for you. 
Create a full backup of Windows 7:
With any upgrade, there are always chances of failure and data loss. Hence, to avoid such issues, you need to make sure of full backup of your system that can be used in such a case arises. Luckily for users, Windows 7 and Windows 8.1 have a tool called System Image Backup that easily and efficiently creates a backup of your computer. This way, you don't have to depend on any third-party backup tools.
Before beginning to Windows 10 upgrade, you need to make sure that your Windows installation has been activated. To do so, simply right-click on My Computer icon on your desktop, and click on Properties. You'll find a Windows Activation section, under that you can easily check the activation status. If it's not activated, you can activate it by clicking on "Activate Windows Now."

It is recommended to uninstall any software that might prevent a successful upgrade. They could be any old third-party applications, antivirus, or security software.
It would also be beneficial for you to disconnect any hardware devices connected to your PC, such as a printer, camera, external hard drive, and any other USB peripherals. 
A step-by-step guide to upgrading from Windows 7 to Windows 10!
Step 1: Go to Microsoft.com and download the Windows 10 Media Creation Tool for your PC.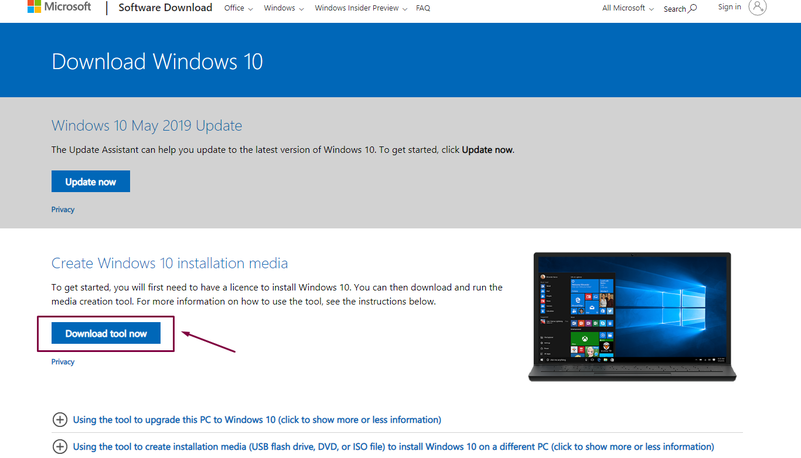 Step 2: To begin your Windows 10 upgrade, run this downloaded file. (it's approximately 18 MB in size.)
Step 3: You'll see this screen asking you whether you want to- upgrade this PC or download for another PC. If you need an ISO image or Windows 10 on a bootable USB then choose the second option. Otherwise, choose first. 
After you click Next, the Media Creation Tool will begin downloading files to your system. In this step, you'll encounter a longer waiting time period as compared to other steps. You can, however, continue to use your PC in the meantime. But don't close the download window.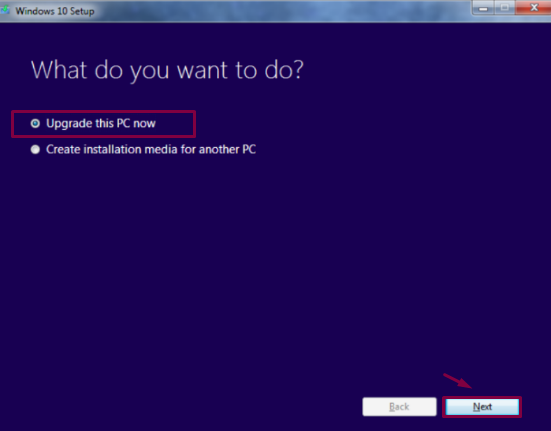 Step 4:  After the necessary files are downloaded, just accept all the License terms (when prompted).
Step 5: Finally, you'll be asked whether you want all your apps and files to stay intact during and after the upgrade. It keeps everything, by default. But if you want to customize your file storage, just click on the 'Change what to keep' option.
This tool has three options: keep personal files and apps, keep personal files only, and lastly, keep nothing. Take your pick from them, and click Next.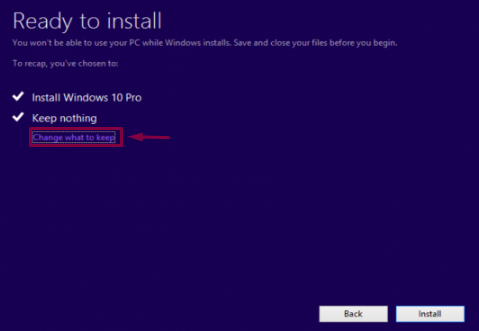 Step 6: After this next step, your PC will restart and that's the last you will see of Windows 7 on your current system.
Note: After you run the Windows Media Creation Tool, you might get a dialog box stating that it needs a "key". This happens when your Windows is not activated initially. Just enter the official registration key of your Windows 7 and move forward with other steps to upgrade to Windows 10.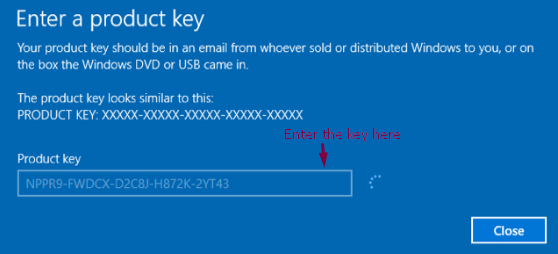 Update your drivers for the new Windows:
After finishing with all the steps to install Windows 10 on your system, the next step is to make your system ready for the best and the most efficient functioning. You need to ensure that there are no instances of halts or app crashes during system use. But how?
Don't worry. This feat can be easily achieved with the help of a driver updater tool.  
A device driver is a software component that allows and ensures seamless communication between the operating system and hardware devices. Without updated and fully functioning device drivers, the tasks wouldn't get completed and the system would face performance issues.
And this means that you require the help of third-party software to help keep your system drivers updated and saved from being corrupted. A driver update tool such as Bit Driver Updater is a perfect solution.

While using Bit Driver Updater, you wouldn't have to resort to manual methods to find and install the latest system drivers on your system. It makes the entire process of updating drivers automatic and efficient. It saves both your time and effort, finds all the latest and correct support drivers, and boosts up your system's performance.
You can instantly scan your system for outdated drivers with the FREE version, while with the PRO version you can do a lot more, like driver Backup and Restore.
Finally, after making your choice, all the latest drivers are installed on your system without any hassle. And this way, your system won't ever be vulnerable to system issues and crashes, and the apps would run without any pit stops.
Frequently Asked Questions (FAQs)
Here's an answer to every query related to upgrading Windows 7 to Windows 10.
How to backup Windows 7 files?
As said earlier, there's a special tool in Windows 7 that lets you easily backup your files for the time when things go wrong. Here's how to use it.
Step 1: Click on the Start button and choose Control Panel. Click on Backup Your Computer found under System and Security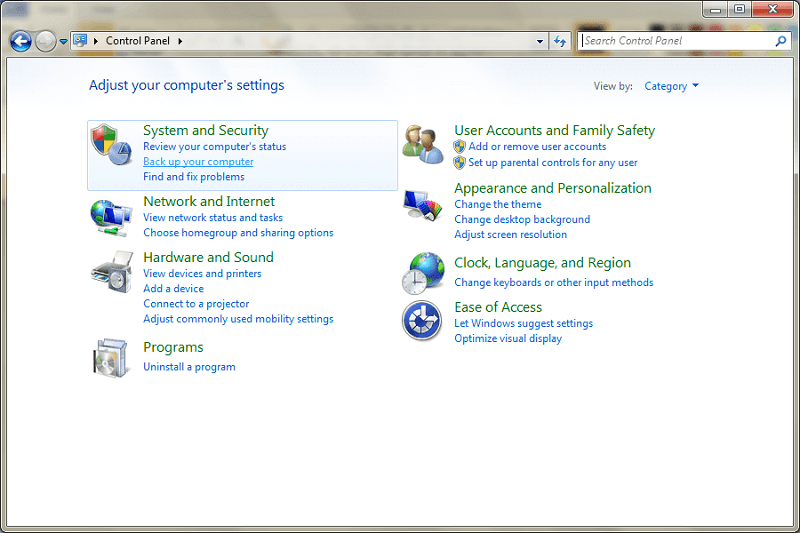 Step 2: If you've never backed up your device earlier, then select Set Up Backup. Once you have selected it, the wizard guides you.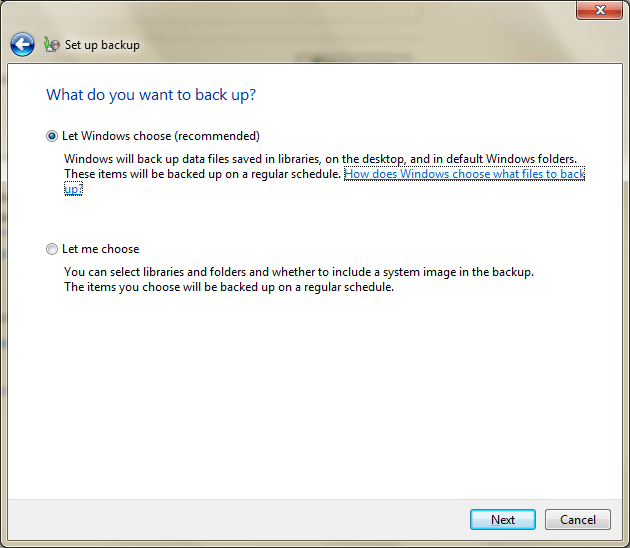 After complying with the instructions appearing on the screen, your files get backed up.
How to transfer files from Windows 7 to Windows 10?
After you update Windows 7 to Windows 10, transferring your files is also easy as pie. Here's how to do it.
Step 1: Connect the storage drive that you used to backup files in Windows 7
Step 2: Open Settings and select Update & Security
Step 3: Go to Backup and then click on Backup and Restore (Windows 7)

Step 4: Click on "Select another backup to restore files from"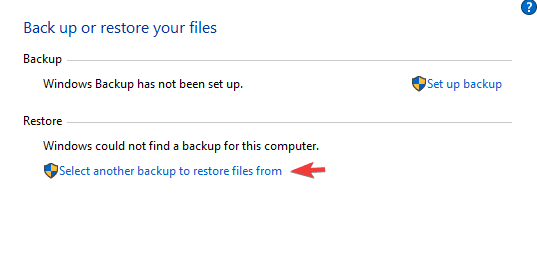 Step 5: Choose the backup you've created on Windows 7 and then click on Next
Step 6: Choose to Restore to start the file transfer
Is your PC vulnerable if you use Windows 7?
We've heard this question numerous times from users across the globe, unfortunately, the answer is yes. With the end of support from Microsoft, Windows 7 will no longer receive the security patch updates. In absence of updates, your system gets exposed to various risks such as malware and virus attacks.
Hopefully, this post has helped you upgrade Windows 7 to Windows 10 with ease and resolved all the queries that you may have. Update the operating system to avoid all the PC problems that may trouble you in the future. Lastly, before you go, subscribe to our newsletter and stay updated with all the latest tech happenings.
Subscribe to Our Newsletter
Keep yourself updated with the latest technology and trends with Innovana Thinklabs Limited.