Wacom Tablets are known for being one of the most reliable and favored pen tablets. It is especially best for people who dabble in graphics and similar works. 
But, like any other device, they also fail to work too sometimes. The reason behind this issue could be some minor glitches, or maybe something related to Wacom Tablet drivers.
What are Wacom Tablet drivers?
Wacom Tablet driver, a hardware driver, is a small computer program that permits a computer device to interact and interconnect with Wacom products, including smart pads and pen computers. If a driver turns corrupted or missing, the computer won't be able to function well. Hence, it is crucial to install the latest drivers to warrant a proper working device with access to its full assortment of features.

How to fix Wacom's "The Tablet Driver Not Found" Error Message?
Getting errors on your PC is frustrating, but what's more annoying is the fact that some of the errors can't be fixed so easily. However, we're here with a sure-shot solution to your Wacom's driver not found issue. You may any of the below mentioned methods to get along:
Method 1: Restarting Wacom Tablet service
One of the reasons for this error could be that your Wacom service isn't functioning properly. Restarting it might help the situation. Follow these steps to do so:
Step 1: The first step is to invoke the Run command. Just press the Windows logo key and R at the same time. This would open a dialog box in the lower corner of your screen.
Step 2: Type services.msc and click OK.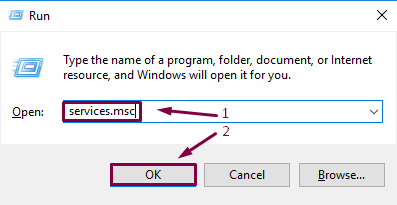 Step 3: The services window will open. Find the following:
Wacom Professional Service
TabletServiceWacom
Touch Keyboard and Handwriting Panel Service
Wacom Consumer Service
The service name is different for different Wacom tablet products.
Right-click on your Wacom tablet service.
Step 4: Now, from the context menu, click on the Restart option.
Step 5: Finally, open the options of your Wacom Tablet to see if it works. If it does, then your problem is resolved. If it doesn't, then move onto other solutions in this article.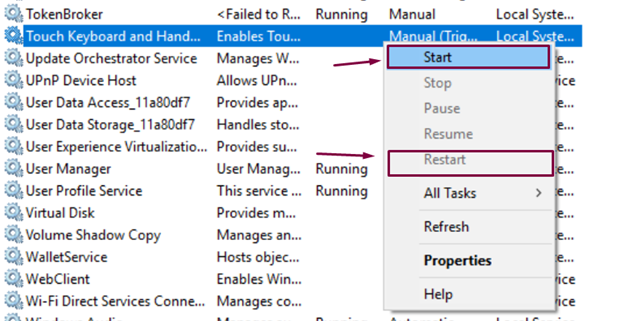 Method 2: Opting for "Roll Back Driver" option
Step 1: Click on Start and type Device Manager in the search box.
Step 2: Open Device Manager.
Step 3: Look for Human Interface Devices, and then right-click on the Wacom Tablet device.
Step 4: Select Properties.
Step 5: Go to the Driver section and choose the 'Roll Back Driver" function.
NOTE: Rollback Driver key might be in grey color which means you won't be able to select it. This further means that the device cannot be rolled back as the previous version of the driver has not been injected.
Method 3: Reinstalling and updating Wacom Tablet drivers
Update Wacom Tablet driver via Device Manager
Step 1: Press Windows Key + R to open the Run box.
Step 2: Type devmgmt.msc  and click OK to open Device Manager.
Step 3: Look for Human Interface Devices, and right-click on your Wacom Tablet device.
Step 4: Choose an Update driver.
Step 5: You'll get a screen with two options. Choose the one that says "Automatically search for updated driver software".
Step 6: After this, Windows will start searching the internet for the latest available drivers for your Wacom Tablet device. If it finds a proper update, then it will automatically install it.
Step 7: Finally, to save changes, reboot your PC.
If after the reboot, you're still facing this issue then open Device Manager, right-click on Wacom tablet and select Uninstall.
Reinstall Wacom Tablet driver manually and automatically
First, you'll have to uninstall the old and broken driver from your system
Step 1: Open Device Manager again.
Step 2: Go to your Wacom Tablet device and right-click on it.
Step 3: Select the Uninstall device.
Step 4: Click on the Uninstall button to continue.
Step 5: Restart your PC again to save the changes.
Update new Wacom tablet driver manually
You can update your Wacom tablet driver manually by visiting the Wacom website and looking for the latest driver for your Wacom tablet. You'll have to make sure that this driver is totally compatible with your variant of Windows 10.  Although I have to mention that this is an obsolete method as this would take up a lot of time, and test your patience to extreme limits. And you might risk downloading the wrong driver for your system.
Update new Wacom tablet driver automatically
The above-mentioned method tests your patience and computer skills, as well as takes a lot of time too. Instead, update your driver automatically with highly professional driver troubleshooters, like Bit Driver Updater. It instantaneously recognizes your system and finds the correct driver for your tablet, and your variant of Windows 10, and installs them on your system. 
Bit Driver Updater efficiently and smartly scans your new Windows 10 system for any missing, broken, or outdated drivers that are causing the Wacom Tablet error. And then, goes on to repairing them for better functioning of your system's performance. 

You can instantly scan your system for outdated drivers with the FREE version, while with the PRO version you can do a lot more, like Backup and Restore some of the old drivers before updating them. 
So, these are the ways through which you can easily resolve the issue when you're faced with the error "Wacom Tablet Driver Not Found". You can easily decide which way is better to go along with your technical skills and go for it. In case, you have any questions, do leave us a comment.
Subscribe to Our Newsletter
Keep yourself updated with the latest technology and trends with Innovana Thinklabs Limited.