Windows is the most popular operating system for computers. It is not that the operating system has become famous recently. People are using it since a long time ago. Almost everyone is familiar with Windows and have worked on it at some point of time. However, some people doesn't seem satisfied with the operating system. They always seek alternatives. Some people want a more flexible and customizable operating system, while others want an intuitive operative system.
There are various alternatives available for Windows, such as Linux, Ubuntu, macOS, etc. Despite being Windows alternatives for a long time, these operating systems doesn't provide enough competition to Windows. Linux and Ubuntu lacks in features and is only the users who want an open-source operating system prefer them. On the other hand, macOS or Apple's operating system only works on Apple PCs or Mac devices. Hence, none of them seems as a robust competition for Windows.
Recently, another operating system is getting the limelight. We are talking about ReactOS. Various technology experts are viewing it as the future of Windows. But why is it so? What makes ReactOS so unique and why people are considering it as a competitor of Windows? Here, we'll discuss the answers to such questions. Before that, let's understand more about ReactOS.
What is ReactOS
ReactOS began in February 1998, and back then, it was supposed to be a clone operating system for Windows. Originally the plan was started in 1995, but ReactOS came to existence in 1998. The main objective of the developers of ReactOS was to create an open-source operating system that can replace Windows. But, like many other new things, it also started quite slow. Most of the people were even not aware of it till the recent few years. The main reason for such a slow start was the monopoly of Microsoft. Gradually, the developers started to develop ReactOS more, and it started gaining attention from the people. Now, with its latest update, it seems as a competent alternative for Windows. So, let's understand the features of ReactOS that makes it so competent.
Also Know: 12 Best Open Source Operating System – Windows Alternatives
What makes ReactOS the Future of Windows
As now you all are familiar with ReactOS, so let's discuss its unique features and characteristics that make it the future of Windows. Below we have mentioned so many reasons because of which people are considering it as a competent alternative for Windows.
User Interface
The first reason why people are considering ReactOS as Windows alternatives is its user-interface. The starting versions of ReactOS is based on some older versions of Windows, including Windows NT. However, as Windows evolved, ReactOS has also evolved. Most of the latest versions of ReactOS offers quite a similar interface as of Windows 2003 and XP. In its recent version, developers of ReactOS have tried to provide a related and mixed interface of Windows XP and 7. Hence, ReactOS version 0.4.11 provides a user-interface mixed and alike Windows 7 and Windows XP. Just like Windows 7, ReactOS version 0.4.11 also has the start button at the bottom left corner of the desktop screen. Along with this, there are various other features as well that seem quite alike to Windows 7 and XP. The icons also seems inspired by Windows.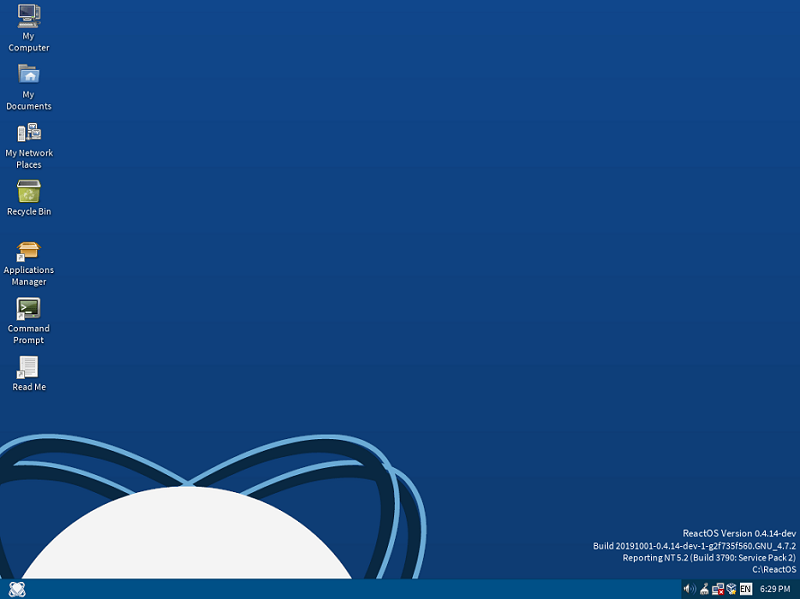 Similar Utilities
Along with the interface, ReactOS also provides some exact same utilities of Windows. When you use an operating system for a while, you become familiar with it. Hence, whenever you switch to another one, you might feel some difficulties to adjust yourself with the utilities and functionality of that particular operating system. Developers of ReactOS have taken care of this thing, and that's why they have provided some utilities that are identical as of Windows. You can find utilities or applications such as Command Prompt, Notepad, Paint, etc. in ReactOS.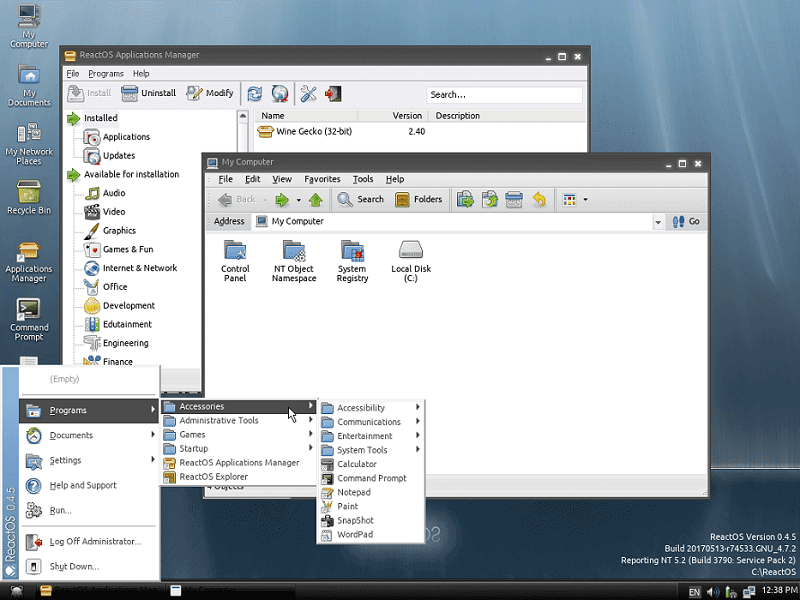 ReactOS Application Manager
Our most favorite feature of ReactOS is its Application Manager. Usually, application managers of other operating systems only show the information about the inbuilt or installed utilities and software. But as ReactOS is not like every other regular operating system, its Application Manager also provides information about the application and software that are not installed. Let's take internet functionality as an example. When you see its default browser in the Application Manager, it will also provide you with some recommendations for other browsers that are compatible with your version of ReactOS. Hence, you doesn't need a third-party application manager software on ReactOS, as the default utility itself provides some advanced features.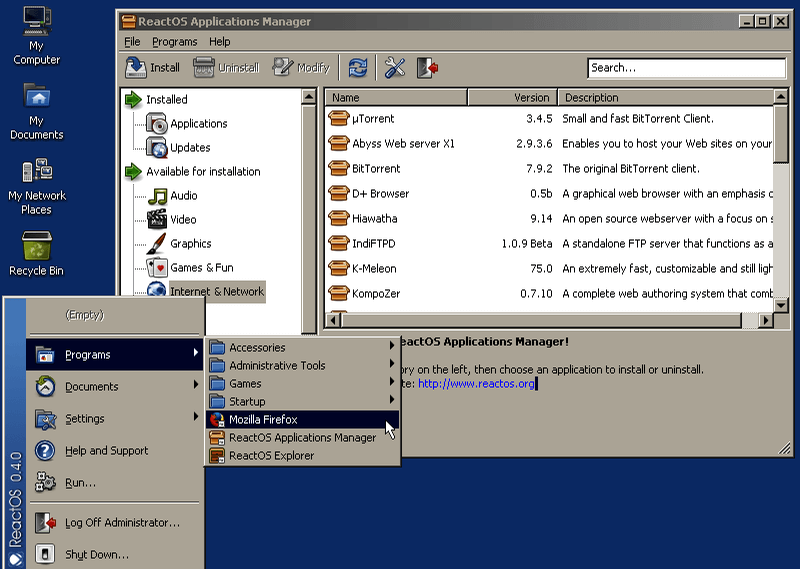 Also Know: Best Bootable USB Software for Windows 10
Support System
Usually, other operating systems doesn't provide support for their older versions. As soon as a particular version of the operating system gets older, the manufacturers stop providing support for it. But, it is not in the case of ReactOS. If you are using ReactOS, then you'll be provided with support for its every version, no matter how old it is.
Compatibility
No matter if you are having an older or the latest high-end computer, ReactOS is compatible with all of them. The operating system is so compact that it doesn't take much space on your hard disk and RAM. Hence, one can use it on any computer. You just require a hard disk space of 500 MB to make it function properly on your computer. It also doesn't matter if you have more RAM or not because it only requires 96 MB RAM space to make ReactOS run on your computer.
Completely Free
Unlike most other operating systems, you do not have to pay for the bootable disks for ReactOS. The operating system is entirely free for all the PCs. You don't have to pay a single penny to try this once on your computer. If you are surprised by this fact, then hold on, we have something entirely surprising for you.
Microsoft Office
The most surprising thing about React OS is that it comes provides a Microsoft Office Compatibility Pack. Yes, it surprisingly provides Microsoft's very own Office Compatibility Pack. Along with that, it also provides you with Open Office and Libre. Hence, you'll be having a lot of options on ReactOS.
Winding Up: Can ReactOS really replace Windows
So, these are some of the amazing features of ReactOS that make it a competent alternative for Windows. However, Windows is not just about these 7-things. The operating system offers a lot of advanced features, and that's the reason why it is one of the most preferred and used operating systems since a long ago. Hence, we can say that currently, ReactOS is not a suitable replacement for Windows. It still requires many more improvements. But, the operating system seems quite competent. One can easily say that it has all the potential to become the future of Windows.
Furthermore, if you want more such useful information about ReactOS, Windows, and other operating systems, then subscribe to Innovana blogs.
Subscribe to Our Newsletter
Keep yourself updated with the latest technology and trends with Innovana Thinklabs Limited.